Vision of a Secured IT Network Society
dit Co., Ltd. is committed to contributing towards the building of a Secured IT Network Society through technology, products and services, as well as via our participation in committees/organizations related to network and security in the community.
Strategy
We believe that a Secured IT Network Society can be achieved by the coordination of the various key elements.
Key Elements
| Wisdom & Knowledge | Established wisdom and knowledge learned are fundamental to the development of technology, products, services, integrity, consensus and standards. |
| --- | --- |
| Technology | Technical platform for products and services. |
| Products | Components for information infrastructure |
| Services | Network system implementation, operation and administration as well as consulting, education and security audit. |
| Integrity | User education on integrity and security awareness. |
| Consensus | ISO27000, ISO 15408, Information Security Audit System, Personal Information Protection Law, etc. |
dit offers Technology, Products and Services as our business activities and contributes to Integrity, Consensus and Standards through our participation in JASA and JNSA.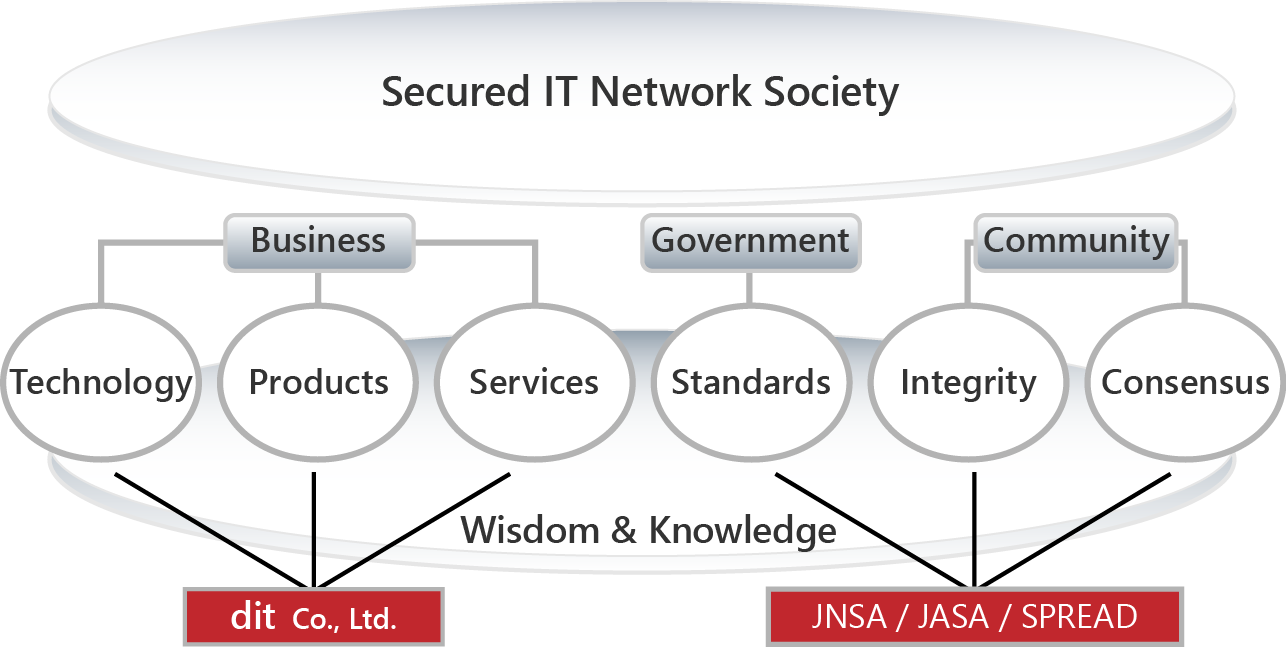 Business Units
Network Solution
The role of the Network Solution Unit is to provide accessible and reliable network infrastructure to our clients. The Wireless Solution Group focuses on wireless network, including the distribution of related devices and tools as well as implementation and analysis services. The Business Solution Group is mainly related with wired network and provides network monitoring and analysis appliances.
Network Security
The Network Security Unit offers high-end security solutions to safeguard client's network and security from internal and external risks, including gateway, data-in-transit and privileged account security.
Management Solution
The Management Solution Unit works closely with each end-user to provide a total-solution service including the supply of devices, implementation, MSP and Data Center function.
Security Service
The Security Service Unit operates Cyber Forensic Center to provide Security Monitoring Service to clients to mitigate risks of breach and impact to their business. The Unit also provides professional services such as security consultation, incident response, digital forensics and forensic education.
R&D in the Advanced Information and Telecommunication Field
With the aim of improving and developing the next generation information and telecommunication systems, the R&D Unit collaborates with research institutes and telecom companies in advancing new technology fronts. The expertise acquired through such researches forms the backbone of the solutions and services offered by dit.
Company Profile
Establishment
December 9, 1985
Capital
Yen 428,745,000 (US$4 Million)
Management
Tetsuya Inagaki
Representative President
Annual Sales Revenue
(forecast for the 2018)
Yen 2,500,000,000
Number of Employee
84
Office

Headquarters

| Osaki West City Bldg. 2-9-3 Osaki, Shinagawa-Ku, Tokyo 141-0032 Japan

Branch Office

| [Koto Office] Koto-ku, Tokyo [Osaka Office] Yodogawa-ku, Osaka

R&D Center

| Chuo-ku, Sapporo

Main Shareholder
Future Corporation
Main Clients
(In alphabetical order)

Daiwabo Information System Co., Ltd.
Fujitsu Group
Hitachi Group
KDDI Corporation
NEC Group
NTT Group
Government and municipal offices
Public Institutes
Education Institutes

Group Company
History
2021
Moved the head office to Osaki, Shinagawa-ku
2018
Participated in demonstration experiment of "Third Wakayama Prefecture Education Promotion Basic Plan"
2017
Commenced joint business with NTT-AT in the field of cyber security.
2016
Joined APPTraS
2014
Acquired a 34.2% stake in Clwit Inc.
2011
Opened Cyber Forensic Center
2007
Increased Capital to Yen 428,745,000
2006
Acquired Hucom Inc.
Obtained 100% stake in Cyber Solution Inc.
Increased Capital to Yen 410,745,000
Certification of Microsoft Gold Partner "Security Solutions Competency"
2005
Certification of ISO27001
2003
Increased Capital to Yen 254,745,000
Joined JASA
2002
Joined SEA/J
Opened R&D Center in Sapporo
2000
Cyber Solution, Inc. is established.
Joined JNSA
Acquired 33.33% stake in Nextech Co., Ltd.
Increased Capital to Yen 211,400,000
1995
Joined the establishment of Tokyo Internet
1993
Increased Capital to Yen 87,500,000
1991
Opened the Osaka Office
1987
Company name is changed to dit Co., Ltd.
1985
Daiden Intelligence Technology Co., Ltd. is established.
Joined the national project "ΣProject"
privacy policy
Collection and use of personal information
dit Co., Ltd. collects personal information to the extent necessary to provide our services and respond to inquiries.
At the time of collection, dit Co., Ltd. will notify customers of the purpose of use of personal information and, if necessary, make it public (*1) through its website and related documents.
In addition, when responding to inquiries by phone, we will record the conversation for the purpose of confirming the content of the inquiry, improving the quality of the response, and improving our business operations and services.
The collected personal information will be managed under adequate safety protection measures.
(*1) Notify or announce to customers

The notification method is one of the following.
Oral notification
Written notification
Notification by e-mail
The method of publication is one of the following methods.
Description on our website
Description in catalogs and pamphlets
Description in periodical publications
Posted at the reception of exhibitions and seminars